Collaborative Engineering Team Awarded Grand Challenges Grant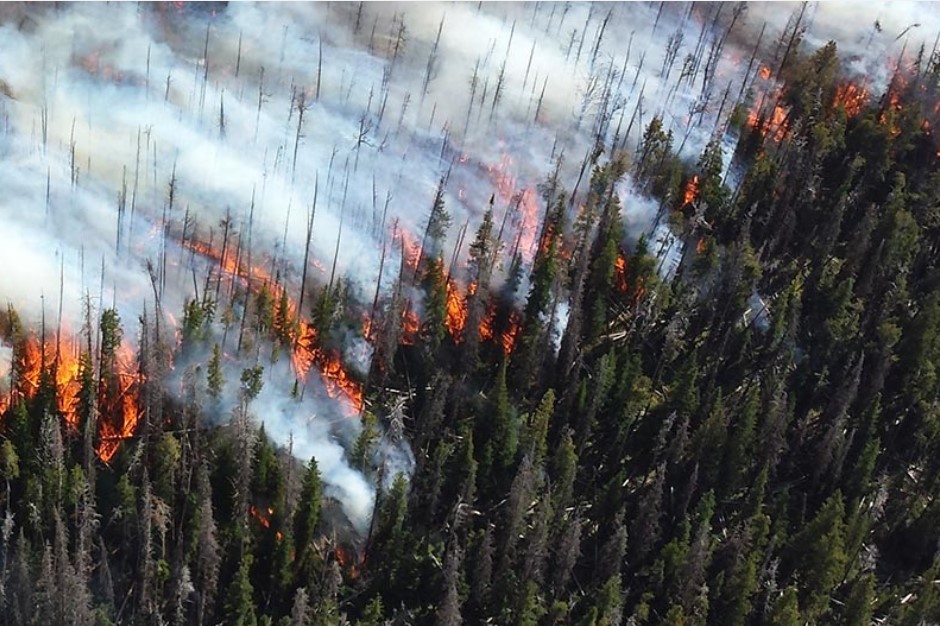 A team of engineers from the University of Maryland (UMD) A. James Clark School of Engineering received a UMD Grand Challenges Grant for their project, "Observing Wildfires Through UAVs and Fire Imaging Technologies."
Fernando Raffan-Montoya, an assistant professor in the UMD Department of Fire Protection Engineering (FPE), Arnaud Trouvé, FPE Professor, and Lina Castaño, an assistant research scientist in the UMD Department of Aerospace Engineering, will collaborate on the project, which aims to use recent advances in technology, particularly unmanned aerial vehicles (UAVs) and fire imaging technologies, to develop observational data that can be used to increase the understanding of wildfires and wildland-urban-interface (WUI) fire behavior, while providing innovative solutions to incident response.
"This research is an exciting extension of many years of research on wildfires and WUI fire behavior in the department," said FPE Chair, Jim Milke. "The project highlights some of the multi-disciplinary talents needed to address this issue that is of international importance."
Wildfires and WUI fires have increased significantly as of late due to poor land management policies, the increasing human population in the WUI, and climate change. The team's research will address some key barriers to mitigating wildland fire risk, attributed to the limited fundamental understanding of wildland fire dynamics caused by the lack of high-quality, time-resolved observational data. In particular, the study will focus on autonomously tracking the fire line and dynamically measuring the flux of firebrands produced during a wildland or WUI fire; the data will be assimilated into numerical models that can help forecast the behavior of wildland fires.
"Wildland and WUI fires are an increasing problem worldwide, in large part driven by climate change," said Raffan-Montoya, lead researcher on the project. "When the Grand Challenges Program was announced, I recognized the relevance of wildland and WUI fires in the context of climate change and immediately reached out to Professor Trouvé due to his experience in the field, particularly on the numerical modeling side. We are so grateful to the University for this support and we hope to showcase the synergies between Fire Protection Engineering and Aerospace Engineering in attacking this problem in an interdisciplinary manner."
Castaño will contribute her years of experience with UAVs and autonomous systems, and the team will also welcome an incoming Ph.D. student and Clark School Fellow, Adetola Koiki, to work on the ember measurements.

The team has also partnered with UMD's MATRIX Laboratory and the UAS Research and Operations Center, both of which will provide technical support in the development and integration of sensors and vehicles, as well as in testing the proposed solutions to address the problem.
UMD's Grand Challenges Grants Program is the largest and most comprehensive program of its type ever introduced on campus. The program aims to support projects that address emerging societal issues, including climate change, social injustice, global health, and education disparities. Please follow this link for additional information.
Published March 7, 2023