Electrified Heating Towards Green Methane Conversion and Ammonia Synthesis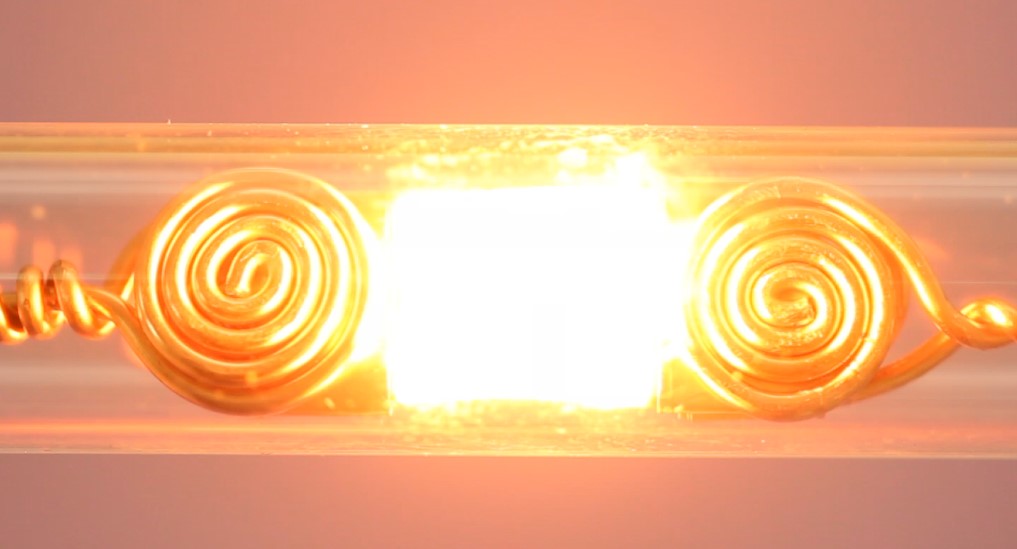 College Park, MD – Methane conversion and ammonia synthesis play indispensable roles in the chemical industry, which greatly support societal operations. However, these industrial chemical syntheses are accompanied by an enormous amount of carbon dioxide emissions due to the burning of fossil fuels or coal, along with poor energy efficiency. In addition, improving the product selectivity and catalyst stability in these thermochemical reactions remains challenging. These processes are typically conducted in large-scale plants, while important methods that enable distributed chemical manufacturing are lacking.
To circumvent these problems, a multi-institutional research team led by Liangbing Hu – a professor in the University of Maryland (UMD) Department of Materials Science and Engineering (MSE) and PI on the study – developed a rapid Joule heating technique to conduct thermochemical reactions, which can be used to produce green and value-added feedstock chemicals from methane conversion and ammonia synthesis. Qi Dong, an MSE Assistant Research Scientist, served as first author on the study published in Nature.
"The use of pulsed electrical heating lowers the average temperature, thereby reducing energy costs," said Hu. "Using green electricity, our method provides a unique opportunity to reduce carbon dioxide emissions compared to conventional heating methods."
Indeed, this study establishes a new paradigm towards green thermochemical synthesis.
"The rapid Joule heating can not only electrify a process, thus, setting the foundation for sustainable manufacturing, but it also enhances reaction performance above conventional systems," said Dionisios Vlachos, a professor of chemical and biomolecular engineering at the University of Delaware and co-PI on the study.
This technique can toggle product selectivity in methane pyrolysis toward value-added C2 products, and improve nanocatalyst stability in ambient pressure ammonia synthesis to enable high yield, which are difficult to attain by conventional chemical reactors.
"It's an exciting exploration that opens a new direction for high yield and high electivity non-equilibrium chemical synthesis using electrical heating with renewable electricity," said Yiguang Ju, a professor of mechanical and aerospace engineering at Princeton and co-author on the study.
Using electrical heating could enable distributed chemical production with renewable electricity.
"This approach can also be applied to a range of thermochemical processes such as dehydrogenation of hydrocarbons and carbon dioxide reduction at distributed locations," said Dongxia Liu, a UMD Professor in the Department of Chemical and Biomolecular Engineering, and co-PI on the study. "It also holds the potential to transform current chemical engineering infrastructure to make it more energy efficient and environmentally benign."
This was a multi-institutional study led by Liangbing Hu and Dongxia Liu the University of Maryland, Dionisios G. Vlachos at the University of Delaware, Yiguang Ju at the Princeton University, and Ioannis Kevrekidis at Johns Hopkins University.
For additional information:
Dong, Q. et al (2022). "Programmable Heating and Quenching for Efficient Thermochemical Synthesis," Nature. DOI: 10.1038/s41586-022-04568-6
Published May 18, 2022