Liangbing Hu Named Finalist for 2022 Blavatnik National Awards for Young Scientists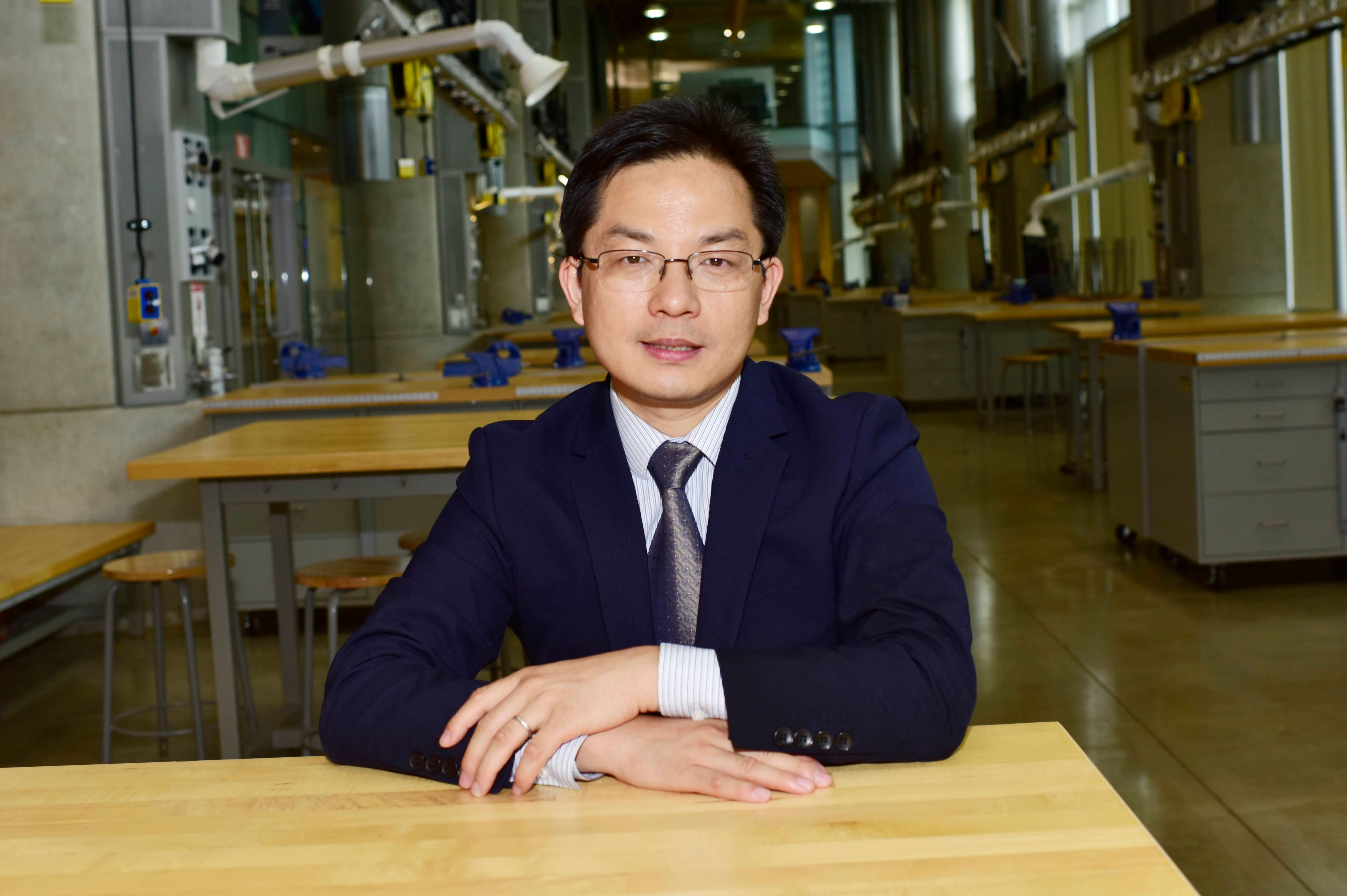 Liangbing Hu, a University of Maryland (UMD) Professor in the Department of Materials Science and Engineering (MSE) and director of the Center for Materials Innovation (CMI), is one of 31 finalists in the running for the 2022 Blavatnik National Awards for Young Scientists offered by the Blavatnik Family Foundation and New York Academy of Sciences (NYAS). Hu, for the fourth year in a row, is one of ten finalists in the physical sciences and engineering category.
Hu, a leader in the field of sustainable materials and a self-described "wood nanotechnologist," has reinvented wood by creating novel wood-based technologies for the replacement of energy-intensive structural materials (e.g., steel and glass). For example, he developed wood that is as strong as steel, but six-times lighter, as well as wood products that are as transparent as glass, though boasting much better thermal insulation. Hu has also reinvented furnace technology to achieve record-high heating and cooling rates, which led to his discovery of high entropy catalysts composed of immiscible elements. These so-called "high entropy nanoparticles" have proven to address the stability issue of a broad range of catalysts via the entropy stabilization effect. This reinvented furnace approach can also sinter a broad range of energy materials toward sustainability (e.g., battery membranes, metals, and oxides for operation in extreme conditions) at a rate of 1,000–10,000-times faster than current sintering techniques using a conventional furnace.
"There are many prizes for lifetime achievement in science, but there are only a few prizes that honor scientists at this critical crossroads in their careers," said NYAS President and CEO Nicholas B. Dirks. "Why does this matter? It's at this stage where support and recognition can make a tremendous difference, giving enormous visibility to their research."
The Blavatnik Awards for Young Scientists, established by the Blavatnik Family Foundation in 2007 and independently administered by the New York Academy of Sciences, began by identifying outstanding regional scientific talent in New York, New Jersey and Connecticut. The Blavatnik National Awards were first awarded in 2014 and expanded in 2017 to honor faculty-rank scientists in the UK and Israel. By the end of 2022, the Blavatnik Awards will have awarded prizes totaling $13.6 million.
About the Blavatnik Family Foundation
The Blavatnik Family Foundation is an active supporter of world-renowned educational, scientific, cultural and charitable institutions in the United States, the United Kingdom, Israel and other countries throughout the world. The foundation is headed by Len Blavatnik, a global industrialist, philanthropist and founder and chairman of Access Industries, a privately held industrial group based in the U.S. with global strategic interests.
About the New York Academy of Sciences
The New York Academy of Sciences is an independent, not-for-profit organization that since 1817 has been committed to advancing science for the benefit of society. With more than 20,000 Members in 100 countries, the Academy advances scientific and technical knowledge, addresses global challenges with science-based solutions, and sponsors a wide variety of educational initiatives at all levels for STEM and STEM-related fields. The Academy hosts programs and publishes content in the life and physical sciences, the social sciences, nutrition, artificial intelligence, computer science, and sustainability. The Academy also provides professional and educational resources for researchers across all phases of their careers.
Published June 1, 2022