FPE Alum Nicholas Melly Awarded 2023 NSPE Federal Engineer of the Year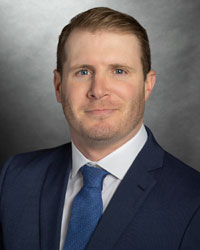 Nicholas Nelly, a fire protection engineer at the U.S. Nuclear Regulatory Commission Office of Nuclear Regulatory Research Washington, D.C., and an alumnus of the FPE Department has been named as one of the top ten winners of the 2023 National Society of Professional Engineers (NSPE) Federal Engineer of the Year Award. Melly was honored for directing breakthrough research and regulatory activities to enhance an understanding of nuclear power plant (NPP) fire safety, risk assessment, and hazard mitigation. His research comprehensively assessed the knowledge archive of high energy arcing faults (HEAFs)-high-voltage discharges between two or more conductors for extended durations that could cause fires and other electrical system failures. Melly coordinated a multiyear international research effort that leveraged the expertise and resources of 10 countries to understand better the risk posed by this phenomenon.
Melly's research is significant in furthering the development of advanced hazard modeling and simulation techniques, identification of fire mitigation measures, and updated technical guidance to strengthen NPP fire safety.
The Federal Engineer of the Year Award (FEYA) is sponsored by professional engineers in government. The award recognizes outstanding professional engineers employed by federal agencies, departments and the military. It is offered annually to engineers who play a significant role in providing innovative solutions to global challenges that affect future generations.
Melly, who graduated from the FPE Department with a Bachelor of Science in 2008, is the 5th Engineer mentored by Mark Salley, Chief of the Fire and External Hazard Analysis Branch (FXHAB) of the U.S. Nuclear Regulatory Commission (NRC), to win the award for the NRC. Mark is a distinguished alumnus of the FPE department.
"Mark Salley is one of our distinguished alumni. He's got an incredible track record of mentoring other alums who are part of his team" said Professor James Milke, Chair of the FPE Department.
The alum success stories that impact second-generation awards and achievements have been a part of the FPE Department's history. What sets the FPE department apart is its track record of providing the highest quality scientifically-based education, research, and outreach in fire-related safety, health and environmental issues. The FPE has the unique position of offering the only fully accredited fire protection engineering undergraduate program and one of three graduate degree programs in the U.S. In recent years, the department faculty and students have been involved in a wide array of fire-related research, including energy storage systems, material flammability, flammable refrigerants, fire detection, use of artificial intelligence for situational awareness, and numerical simulations involving fires and people.
Melly will be honored at a ceremony to hold on February 24, 2023 at the National Press Club in Washington.
Published February 21, 2023