Gearing Up for Battle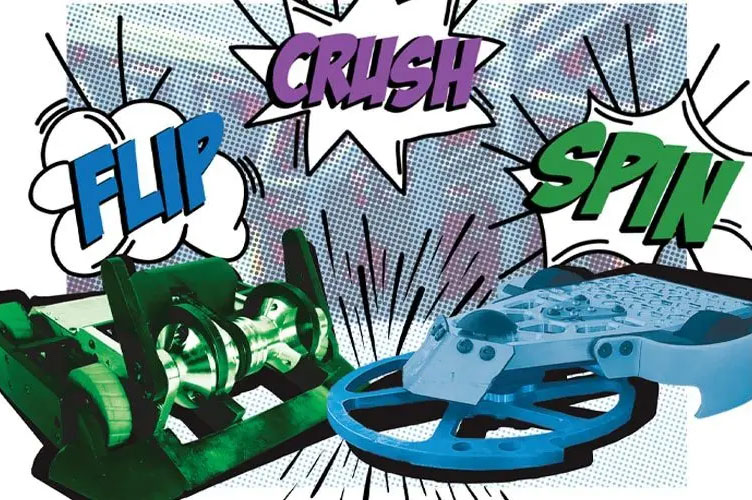 by Annie Krakower for Terp magazine
In this corner, making its return to the ring, 30 pounds of speedy, spinning steel and wheels known as Warlock. And in the other, the rookie, a silver, boxy, whirling disk of doom: Jade.
The match begins, and the competitors frantically dodge and circle each other, looking for an opening to deal a body blow. The tension is short-lived, but ends satisfyingly: Just 12 seconds in, Warlock powers into Jade, blasting the metallic menace into the air with a burst of sparks.
This intercollegiate conflict shown on YouTube doesn't quite have the Vegas-y lighting and music (or ratings) of the Discovery TV show "BattleBots," but it's still packed with drama and robot wrecks as victory goes to the University of Maryland.
Members of the Leatherbacks, the Terps' student combat robotics club, design, build, and control the mini mechanical warriors, with Warlock's epic takedown of its Northwestern University foe in a Connecticut tournament last spring just one example of the raucous fun.
"It was a really spectacular hit," says Leatherbacks President Eashan Siddalingaiah '25, savoring the shocking end to the match. He, like other members, participated on a high school's robotics competition team, but those bots had much more placid objectives, like maneuvering around obstacles. "I always thought that the fighting would be a very interesting next step."
Founded in 2018, the club meets twice a week to discuss design concepts and build its 1-, 3-, 12-, and 30-pound competitors. Students need to tap into mechanical and electrical engineering principles to adhere to those weight limits, says Johan Larsson, associate professor of mechanical engineering and the Leatherbacks' faculty adviser. Through a collaboration with Terrapin Works, a campus hub of manufacturing resources, the 40 members can beef up their battling bots using 3D printers, water jet cutters, and computer numerical control (CNC) mills and lathes.
While the robots end up looking more like intimidating Roombas than the laser-eyed androids you might be imagining, they can do some serious damage. They overpower opponents through either tap-outs, when enough destruction is done that a team cries uncle, or knockouts, when all the smashing and crashing render a bot motionless for 10 seconds.
The 1-pound creations fight in a campus showcase each semester, including a Maryland Day double-elimination tournament. Terps take their bigger bots on the road every few months to compete in Connecticut's Norwalk Havoc Robot League, with events featuring over 100 robots from other colleges and even builders from the real "BattleBots" show.
"It's a great way to learn for us as new builders, but also to really test our skills against the experienced veterans," says Alex Wang '25, the club's chief engineer.
The Leatherbacks hope Warlock and its titanium teammates can build on past success as they continue growing the club, developing more students' engineering skills—and wreaking havoc in the ring.
Published February 24, 2023