IREAP and MSE Alum Receives University Distinguished Dissertation Award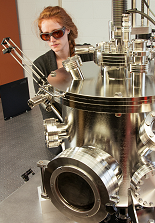 Dr. Jane Cornett (IREAP/MSE) has been awarded the 2014 University Distinguised Dissertation Award in Mathematics, Physical Sciences, and Engineering. Only four Distinguished Dissertation Awards are given each year at UMD; the award categories are: 1. Mathematics, Physical Sciences, and Engineering; 2. Social Sciences; 3. Humanities and Fine Arts; 4. Biological and Life Sciences.
Dr. Cornett's thesis, titled "Thermoelectic Transport Phenomena in Semiconducting Nanostructures," was conducted under the supervision of Prof. Oded Rabin (IREAP/MSE). Her research investigates "improving the thermoelectric properties of materials [through] nanostructures" in order to increase efficeincy in thermoelectric devices made from bulk materials. Examples of the application of this research include power generation and refrigeration.
Dr. Cornett is now employed at Analog Devices in New England.
Published May 8, 2014