Mohammad Hafezi Joins ECE and IREAP Faculty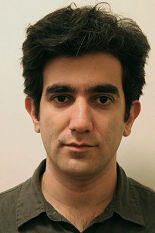 The Department of Electrical and Computer Engineering and the Institute for Research in Electronics and Applied Physics have jointly appointed Dr. Mohammad Hafezi as an assistant professor. Dr. Hafezi will also join the Joint Quantum Institute (JQI) as a Fellow. His hiring will be effective July 1, 2014.
Dr. Hafezi's research interests lie in quantum simulation, optical communication and computation, quantum hybrid systems, and opto-mechanics. Recent research interests include the quantum mechanical effects of topological phenomenon (how the parts of a system connect). In a Quick Study for Physics Today, Dr. Hafezi gives the example of a circular linked necklace. "[The necklace] can be deformed into an oval or a rectangle without changing the topology, since the links remain connected in the same way. But the necklace can only be made into the topologically distinct straight line if it is cut or its clasp is opened." The quantum Hall effect is similar. A free particle in the bulk of a 2D material (away from the edges) can complete its orbit, thereby staying essentially in place and not contributing to conduction. But particles closer to the edge cannot complete their orbits and skip along the edge, creating a charge. His recent research has discovered that this also holds true for photons. The real-world applications of this research include development of robust optical devices on-chip and increasing the density of information that can be carried along optical fibers. For a more detailed description of these and other interests, visit Dr. Hafezi's website.
Dr. Hafezi studied for two years at Sharif University before completing his undergraduate degree in Physics from École Polytechnique. He received his Ph.D. in Physics from Harvard University in 2009, and has since been working at the JQI as a postdoctoral researcher.
This fall, Dr. Hafezi will be teaching ENEE 380H, Electromagnetic Theory. He is also accepting applications from graduate students with backgrounds in both physics and electrical engineering.


Published May 22, 2014