Rafel Setra Named 2014 Goldwater Scholar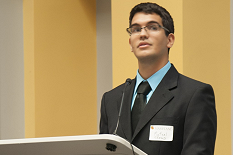 The Barry Goldwater Scholarship and Excellence in Education Program has named Rafel Setra (2015) one of their 2014 scholars. Established by congress in 1986, the scholarship program is intended to "provide a continuing source of highly qualified scientists, mathematicians, and engineers by awarding scholarships to college students who intend to pursue research careers in these fields."
Currently, Rafael is tackling novel research questions in signal processing. He is mentored by Prof. Tom Murphy (ECE/IREAP) and Prof. Rajarshi Roy (Physics/IPST/IREAP). Under their guidance during the 2013 TREND-REU program, Rafael completed a research project entitled "Suppressing SBS Through Chaotic Phase Modulation." Rafael has created a whole new theoretical and experimental research direction in the lab – starting from an idea and an equation – and is working to overcome signal scattering problems in optical fibers to greatly improve the distance that high powered signals can travel coherently. He is also using applied mathematical modeling to improve the resolution/image quality of scanning transmission electron micrographs of biological structures, in collaboration with NIH researchers and Dr. Wojciech Czaja, Professor of Mathematics.


Published March 21, 2014