UMD Inventions of the Year Tackle Grand Challenges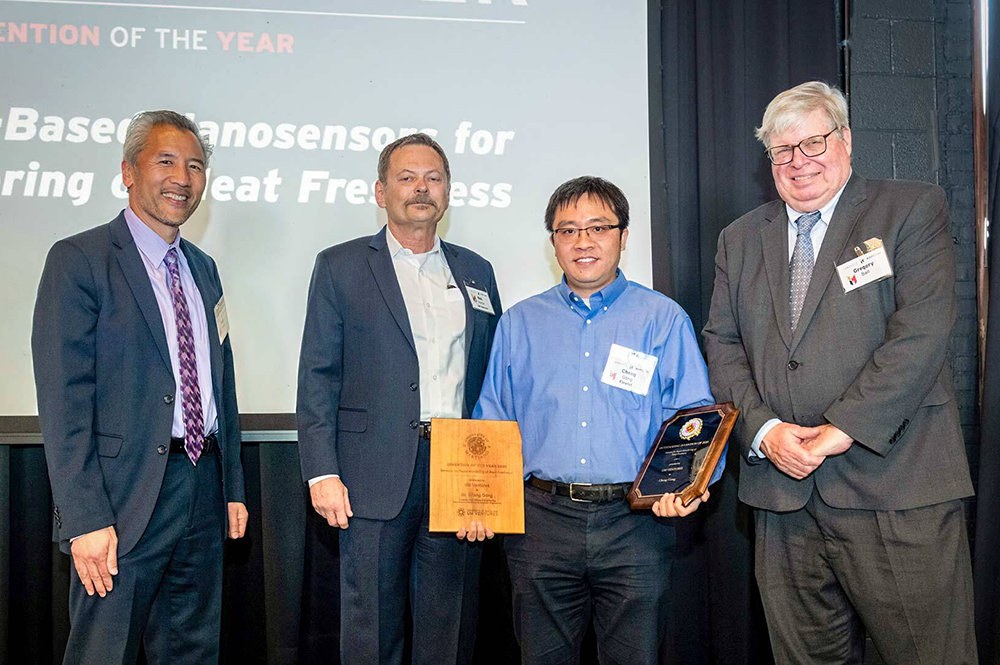 The "use-by" date may have just expired.
A sensor made from a futuristic quantum material that can monitor food freshness to help grocery stores and production facilities slash waste—keeping food supplies safe, abundant, and affordable—won the top prize in the University of Maryland's annual Invention of the Year competition.
Along with other category winners, it was announced at Innovate Maryland, a yearly celebration of UMD's growing penchant for turning intriguing bench science into creative and exciting real-world products.
"They all demonstrate how the search for knowledge can spark an idea or an invention that, in turn, can inspire change, improve lives, and benefit humanity overall," Vice President for Research Gregory F. Ball said of the 13 finalists.
UMD inventiveness is never limited to the classroom or the lab, President Darryll J. Pines said.
"What we dream up, engineer, and build on campus will have an impact far beyond its borders and will be an example of what a modern public research institution can achieve," he said. "Translating our expertise into action is a necessary step in advancing the common good, investing in people and communities, and taking on humanity's grand challenges. From public health and racial injustice to climate change, refugee migration, and threats to civic engagement, no problem is truly unsolvable."
This year's winners in Maryland Engineering are:
Overall Physical Sciences Invention of the Year: 2D Materials-Based Nanosensors for Rapid Monitoring of Meat Freshness
Some 30-40% of the U.S. food supply goes bad, is ruined in production, or is simply thrown out before it ever reaches a table, according to a U.S. Department of Agriculture estimate. To rein in that shameful statistic and bolster the nation's food security, the federal government aims to cut food waste in half by 2030—and a University of Maryland researcher's innovative sensor system could be a big part of the plan.
Cheng Gong, assistant professor in the Department of Electrical and Computer Engineering, developed technology to allow stores, warehouses, and other users to accurately determine the freshness of meat. His tool is based on graphene, a two-dimensional quantum material that's a single layer of carbon atoms thick. In his sensor, it helps determine the presence of specific gas emissions from meat degradation.
"In the early stages of spoilage, meat produces an odor," says Gong. "That odor can be 'smelled' by our nanosensors."
This new sensor system surpasses arbitrary "use-by" and expiration dates in providing useful information, while being both cheap and effective; it also promises to be useful for applications beyond just meat.
Gong's research is supported in part by the Maryland Innovation Initiative, and has been published in Applied Physics Letters and ACS Sustainable Chemistry & Engineering.
Life Sciences Invention of the Year: Suture-free Repair for Surgery, Cuts and Wounds
Up to 10% of surgeries to repair and connect tubular tissues such as arteries or intestines fail because of badly sewn sutures or fragile body tissues. University of Maryland researchers have developed a method to streamline the suturing process and move it beyond traditional needle and thread with a biocompatible polymer gel that can be spread across tissues and caused to adhere strongly, using about 10 volts of DC current, slightly more than that from a standard 9-volt battery.
Developed by chemical and biomolecular engineering Professor Srinivasa Raghavan and Leah K. Borden (Ph.D. '22), the gel also works for punctures and tears and is comparable to well-done sutures in strength, and meanwhile can be easily caused to release from living tissue by applying another current—a potential game changer for future surgeries.
Read the full list of finalists in every category.
A version of this story first appeared in Maryland Today.
Published May 4, 2022