Powering a Greener Future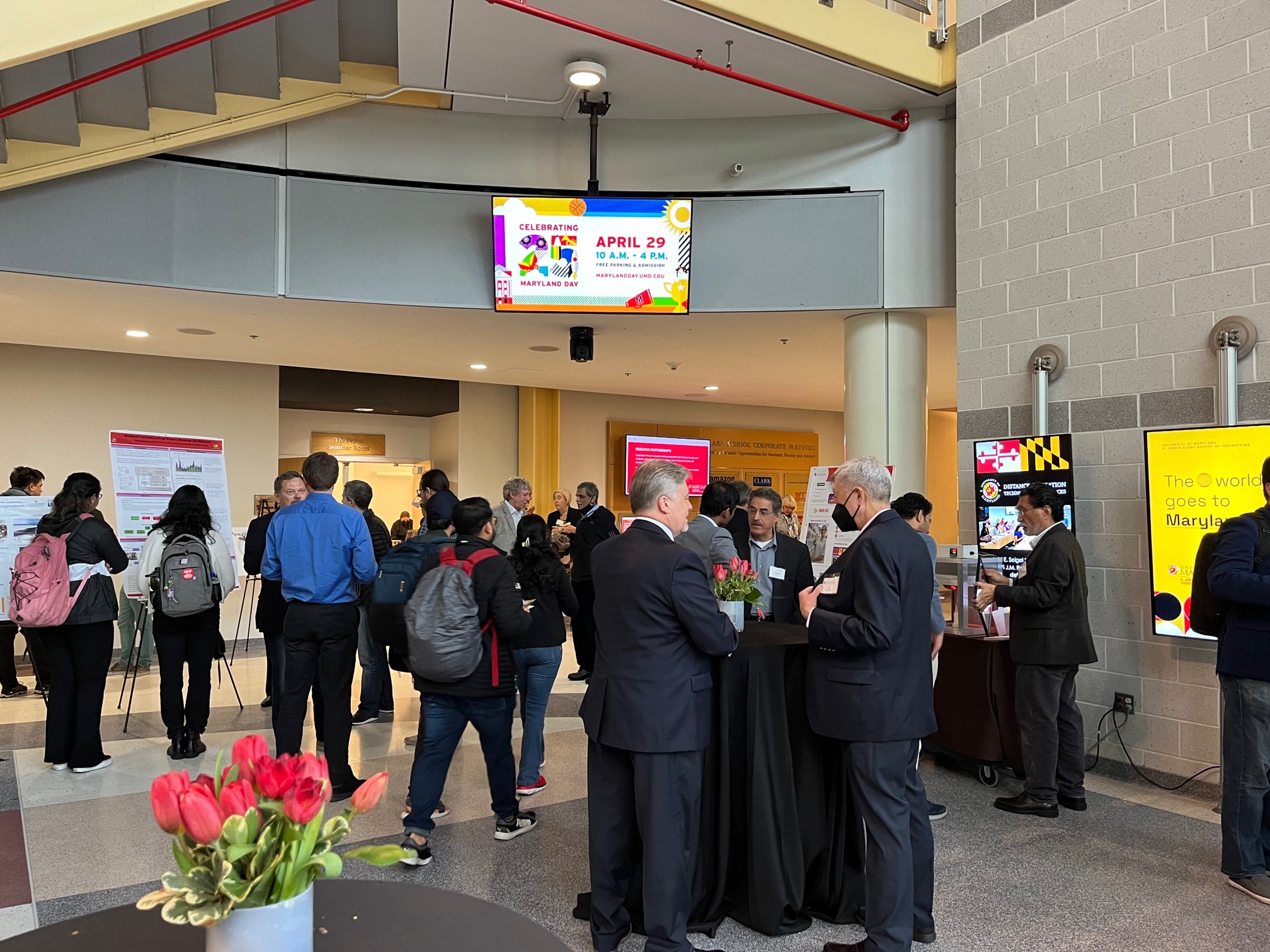 On April 28, 2023 the Maryland Energy Innovation Institute (MEI2) hosted the 11th Engineering Sustainability Day with a focus on "Powering a Greener Future". Industry leaders Washington Gas and Constellation sponsored the event in addition to hosting a luncheon for all presenters and attendees.
UMD entrepreneurs as well as current and previous MEI2 Energy Seed Grant recipients demonstrated their innovative technologies to faculty, students and industry leaders attending the event. Students from across campus (including AGNR, CMNS, ENG, and the Business school) attended, and were able to get a better understanding of how to maximize technology's positive impact on the long-term availability of natural resources while minimizing its negative impact.
"MEI2 showcased the passion that students have for turning sustainability research into viable products ready for Maryland businesses to implement at scale," commented Elliott Flick, VP, Commercial Projects at Constellation Energy, and one of the day's sponsors.
On display were a broad range of technologies and start-ups including:
AGNR student, Emily McCoy who discussed "Biological Conversion of Food Waste to Bioenergy and Bioplastics", her work with AGNR Professor Stephanie Lansing. She is focused on understanding the waste sources that exist, particularly the quantities of food waste, and determining what opportunities exist to create renewable resources and energy from that waste.
Alchemity, a UMD based start-up, that will convert stranded natural gas that might otherwise be flared or vented, a major contributor to greenhouse gas (GHG) emissions, to value-added chemical products. By turning a waste gas source into a liquid commodity chemical, this technology can bring a valuable contribution to reducing the emissions of industrial operations.
NextGlass, UMD start-up based on Vacuum Insulated Glass technology created by Professor Jungho Kim and Assistant Research Professor Ratnesh Tiwari. Their novel metal edge seal geometry using a low-temperature sealant results in low-cost VIGs, no stresses and thus high reliability, and much lower edge conduction. The design reduces overall VIG fabrication time by about 80% and requires minimal capital equipment cost due to low temperature processing.
WH-Power, another UMD start-up that is developing a new type of rechargeable battery made from crab shell derived material (chitosan) and zinc metal recently patented by the research groups of Professor Liangbing Hu and Professor Robert M. Briber at the UMD.
Maryland start-up HaloCyTech and Morgan State University Professor Viji Sitther who are utilizing cyanobacterial biomass in naturally available brackish waters for production of biofuels and other natural bio-products, providing a cost-effective alternative to fossil fuel.
Regarding the event, Ken Porter, Director of UM Ventures in College Park, MD, stated, "MEI2provides funding, guidance, and support for faculty and students to develop academic discoveries into patented technologies and new startup companies that can deliver products and services to the citizens of Maryland and make a positive impact on society overall. We are grateful to the state of Maryland for its support and the presentations we've seen today demonstrate a solid return on the state's investment."
About the sponsors:
Constellation is the nation's largest producer of carbon-free energy and a leading competitive retail supplier of power and energy products and services for homes and businesses across the United States. Headquartered in Baltimore, their generation fleet produces enough energy to power 15 million homes and is helping to accelerate the nation's transition to clean energy with more than 32,400 megawatts of capacity and annual output that is 90 percent carbon-free.
Already the lowest carbon emitter of any major investor-owned U.S. generator, they have set a goal to eliminate 100 percent of our greenhouse gas emissions by leveraging innovative technology and enhancing our diverse mix of hydro, wind and solar resources, paired with the nation's largest carbon-free nuclear fleet.
Washington Gas, was founded in 1848, through a Congressional charter signed into law by President James K. Polk. The company provided safe, reliable natural gas service to more than 1.2 million residential, commercial and industrial customers in the District of Columbia, Maryland and Virginia. Clean-burning natural gas is the fuel of choice for more than nine out of 10 new home buyers in the D.C. metro area.
The Maryland Energy Innovation Institute provides a platform to catalyze basic research into new technology while stimulating economic growth and improving millions of lives across the state of Maryland. The Institute brings together science, industry, government and economic leaders to develop new energy technologies and facilitate the transfer of technology ideas into a reality.
Published May 15, 2023