Quarantines Increasingly Ignored as Some States Partially Reopen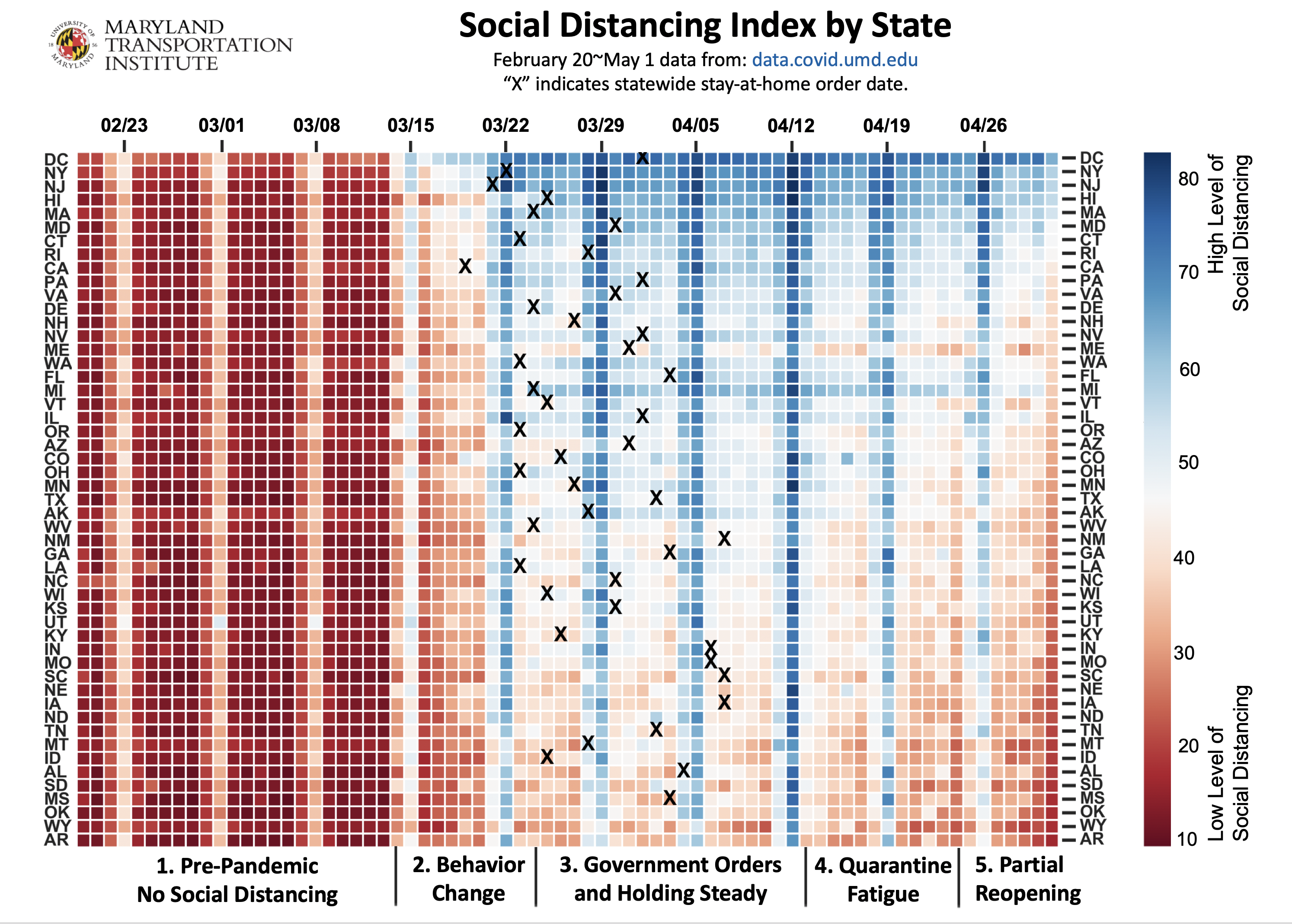 Major drops in the number of people staying home are being observed by researchers at the University of Maryland (UMD)—a trend that may reflect decisions by some states to partially reopen their economies despite the continuing threat posed by COVID-19.
Between April 23 and May 1, more than a dozen states announced partial reopenings. During the same period, the Social Distancing Index (SDI)—a metric that quantifies compliance with guidelines intended to contain the spread of COVID-19—dropped by 12 points nationwide.
The SDI is tracked by researchers at UMD's Maryland Transportation Institute (MTI) in partnership with Center for Advanced Transportation Technology Laboratory (CATT Lab). Daily updates are published on an interactive data analytics platform maintained by the research team.
"Our data suggests that the partial reopening orders in some states have prompted a sharp increase in mobility behavior and decreasing social distancing across the nation," said MTI director Lei Zhang, who is the director of MTI and leading the project.
All ten states with the sharpest reductions in social distancing are states that have announced partial reopenings. Of the ten states with the lowest reductions, nine are still under lockdown.
"Our data suggests that the partial reopening orders have prompted a sharp drop in compliance with restrictions and guidelines." --MTI Director Lei Zhang, Herbert Rabin Distinguished Professor of Civil and Environmental Engineering
In several states, including Alabama, Georgia, Mississippi, Tennessee and Indiana, the SDI dropped by more than 20 points, percentage of people staying home decreased by more than 30% between April 23 and May 1. A similar drop was recorded in Michigan, which has seen widely-publicized protests against COVID-19 restrictions. On April 24, Governor Gretchen Wilmer extended the state's stay-at-home order, but allowed some businesses to reopen.
Travel distances and the number of non-work-related trips have both increased by 20% across states that had partially reopened as of May 1 and by 14% in states still under lockdown.
"What's particularly interesting is that the large increases in the number of trips is not attributable to the reopened businesses alone," Zhang said. "People are responding to partial reopening by making more trips across the board."
Warmer weather, protests, partial reopening announcements, economic realities, and growing frustration with the restrictions are all contributing to the behavior.
The interactive data analytics platform is one of several projects undertaken at UMD's A. James Clark School of Engineering in response to the COVID-19 crisis. For more information, or to speak with the platform research team, email data-covid@umd.edu
More COVID-19 Response Projects
Published May 6, 2020